Just Play It!
An Experimental Concert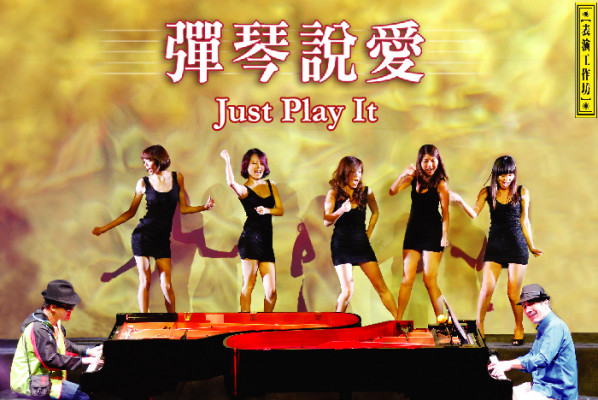 The Most Touching Play of 2014 by Performance Workshop
Just Play It
 A Blind Pianist Makes Love Visible
An Enthusiastic American Pianist and a Blind Piano Genius
Two Pianos and Five Chorus Angels
 Humorous Conversations and Hilarious Performances
"The most awesome duo ever. The most touching life stories. Such simple happiness watching this play."
Stan Lai, Artistic Director of Performance Workshop
"The most touching play ever. Just Play It invites you to hear true happiness through the simplest notes."
Sissy Chen
"A tragicomedy that speaks the truth of life."
The Beijing News
"This brilliant performance brings the audience some of the most touching moments of life."
Beijing Star Daily
      After a casual chat in 2008, Ismene Ting and her long-time musician friend John Vaughan discovered that perhaps a performance comprised of both theater and music can be developed. In January 2009, John Vaughan, his student Hsu Tse-chen and Ismene Ting – three people with two pianos – began their adventurous attempt to rehearse something extraordinary. With amazing projections and flowing music, the play transcends the conventional form of theater through discussing about classical music, the blues, and pop music. Since its premier in April 2010, the total number of runs has reached 84 performances. Just Play It has toured Taipei, Taichung, Tainan, Kaohsiung, Beijing, Shanghai, Guangzhou, Shenzhen, Wuhan, and Hefei.  After receiving multiple requests from the audience, Just Play It is about to blow you away again.
Written and Directed by Ismene Ting
Artistic Director: Stan Lai
Featuring: John Vaughan, Hsu Tse-chen
                    Chao Min-tzu, Tu Chih-chen, Yang Hui-hsuan, Lin Yu-jou,  Tseng Hsin-hui, Chou Yu-jou, Julianne Vaughan
Assistant Director and Visual Coordinator by Michael Yuin Hai Ting
Scenic and Lighting Design by Lee Chih-hsiang
Projection Design by John Wong@ Don't Believe in Style
Costume Design by Christine Suzuka and Gyokurei Suzuka
Choreography by Chen Wu-kang and Yeh Ming-hua
Stage Manager: Chen Zhi-kang
Managing Director: Nai-chu Ding
Produced by Hsieh Ming-chang
Performance Information:
Dates: 2015/6/19-24
Time: Daily at 19:30pm
Venue: Venue: 6F Cultural Hall, Taipei Xinyi Place A11, Shin Kong Mitsukoshi Department Store
Ticket Price (NT$): 680, 990, 1280, 1580
Discounts:
◆Performance Workshop members enjoy 15% off
◆Credit card holders of Shin Kong Commercial Bank enjoy 15% off
◆Purchases made through Performance Workshop's Online Store received 10% off! Please download the Performance Workshop APP on your iPhone or Android phone, or go to http://pwshop.incdoor.com/indexplates/EC/
◆Credit card holders of the following banks get 5% off: Chinatrust Commercial Bank, Cathay United United, Citibank Taiwan, E.Sun Bank
◆Special offers are available for groups of 30 tickets or above. Please contact +886-2-26982323 for more information.
Important Notices:
◆Value of tickets purchased cannot be used towards free parking offers and other events by Shin Kong Mitsukoshi Department Store.
◆Since the performance incorporates scents made from aroma oil, for your own safety, audiences allergic to plants or flowers are  suggested to refrain from attending the performance. During the performance, if you feel uncomfortable, shortness of breath, allergic, please exit the theater immediately.
◆This performance is recommended for aged 7 and above.
◆Ticket exchanges and refunds are only accepted 10 days prior to the day of performance, with a 10% service charge.
◆Please refer to the back of the ticket for other regulations.
Past Performances


 World Premier: Taipei Eslite Exhibition Hall, April 16th, 2010.

Taipei / Eslite Exhibition Hall - 7 runs

Tainan / Tree Valley Park - 1 run

Tainan / Living Art Center - 1 run

Kaohsiung / NSYSU Sun Yat-sen Hall - 1 run

Taichung / Tun District Art Center - 2 runs

Taipei / Novel Hall - 1 run

Wuhan / Qintai Grand Theatre - 1 run

Taipei / Novel Hall - 1 run

Kaohsiung / NSYSU Sun Yat-sen Hall - 1 run

Shanghai / Oriental Art Centre - 1 run

Shenzhen / Huaxia Art Center - 2 runs

Beijing / PLA Theater - 2 runs

Hefei / Anhui Grand Theater - 1 run

Guangzhou / The Bud (Beilei) Theater - 2 runs

Shanghai / Oriental Art Centre - 2 runs

Beijing / Poly Theatre - 2 runs

Shanghai / City Theatre

Taipei / Metropolitan Hall - 5 runs

Tainan / NCKU Art Center - 1 run

Hangzhou / Hangzhou Grand Theatre - 2 runs

Shanghai / Oriental Art Centre - 3 runs

Shenzhen / Poly Theatre - 1 run

Taipei / The Metropolitan Hall - 4 runs

Taichung / Chung Shan Hall - 2 runs

Dalian / Dalian Broadcast and TV Center

Beijing / Poly Theatre

Nanjing / Nanjing Great Hall of the People

Kunming - 2 runs
2013/8/2~8/3 @7:30pm

Tianjin - 2 runs
2013/8/10~8/11 @7:30 pm

Wenzhou Grand Theatre - 1 run
2013/10/2 @7:30 pm

Lishui Grand Theatre - 1 run
2013/10/4 @7:30 pm

Hefei Poly Grand Theatre - 1 run
2013/10/7 @7:30 pm

MaAnShan Grand Theatre - 1 run
2013/10/9 @7:30pm

Taizhou Poly Grand Theatre - 1 run
2013/10/11 @7:30 pm

Zhangjiagong Poly Grand Theatre - 1 run
2013/10/13 @7:30pm

Henan Art Center - 2 runs
2013/10/16~10/17 @7:30pm

Tiayuan Poly Grand Theatre - 1 run
2013/10/20 @7:30pm

Hohhot Poly Theatre - 1 run
2013/10/23 @8pm

Dalian Poly Theatre - 1 run
2013/10/27 @7:30pm

Yantai Poly Grand Theatre - 1 run
2013/10/31 @7:30pm

Qindao Grand Theatre - 1 run
2013/11/2 @7:30 pm

WuXi Grand Theatre - 1 run
2013/11/5 @7:30 pm

Wuhan Qintai Grand Theatre - 1 run
[email protected]:30 pm

Qongching Poly Theatre - 1 run
2013/11/12 @7:30pm

Huizhou Cultural Arts Center - 1 run
2013/11/16 @8:00 pm

Shenzhen Poly Theatre - 1 run
2013/11/18 @8:00pm

Liaoning Grand Theatre - 1 run
2013/11/23~11/24

Xian Grand Theatre - 1 run
2013/11/29~11/30

Shandong Provincial Theatre - 2 runs
2013/12/26-27 @19:30