Just Play It (2009)
A Blind Pianist Makes Love Visible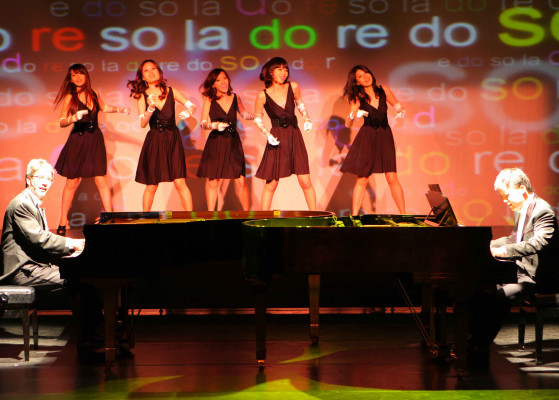 Just Play It  is different from conventional theater – it accomplishes dramatic effect through music and dialogue. "Three people with two pianos" – Ismene Ting led the two classical pianists to create a brand new production, Just Play It. The play is not just about playing the piano; featuring music from classical to contemporary to independent Chinese culture to Western culture and includes both the past and present, it all begins with a music class. The humorous conversations between the teacher and the student connect classical music, the blues, pop music and something more.
With amazing projections and flowing music, the play transcends the conventional form of theater through discussions about classical music, the blues and pop music. Bringing a whole new experience, Just Play It  juxtaposes many kinds of performing arts and transcends the form of a regular piano concerto.
An enthusiastic American pianist and a blind piano genius; Two pianos and five chorus angels; Humorous conversations, hilarious performances and love.
Artistic Director: Stan Lai
Written and Directed by Ismene Ting
Featuring John Vaughan, Hsu Tse-chen, Tu Kuan-ying, Lin Yu-jou, Yang Hui-hsuan, Choa Min-tzu, Tseng Hsin-hui, Chen Pei-yu
Vice Direction and Visual Co-ordinator by Michael Yuin Hai Ting
Scenic and Lighting Design by Lee Chih-hsiang
Projection Design by John Wong@ Don't Believe in Style
Costume Design by Christine Suzuka and Gyokurei Suzuka
Choreography by Chen Wu-kang and Yeh Ming-hua
Managing Director: Nai-chu Ding
Produced by Hsieh Ming-chang