Who We Are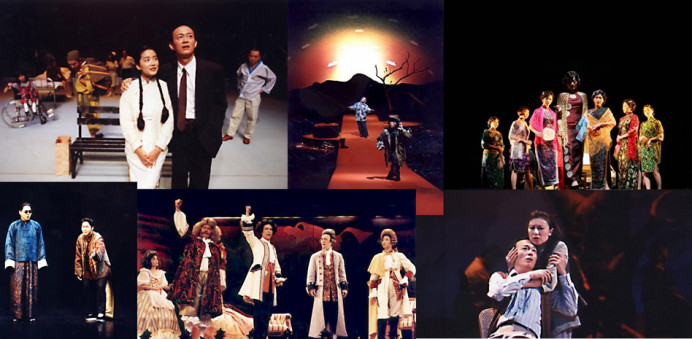 "Emotions are so real in this stunning epic that people are left crying and laughing at the same time."                                       
--The Straits Times
"The Village was such a wild success in Taiwan when it premiered last year that it's just returned for a 2nd run which like the first is all sold out."          
 -- BBC
"The play has contributed to the recent debate in Taiwan about the need to preserve collective memories, while giving a human face to the impact of strained cross-straits relations."
-- The International Herald Tribune
Based in Taiwan, Performance Workshop has long been one of the most influential groups in the Chinese-speaking world. PW's most famous work Secret Love In Peach Blossom Land has toured worldwide, been made into an award-winning film, and has had no less than 100 different (unauthorized) productions in Beijing alone, where it is standard text for drama and film students. The New York Times says it "may be the most popular contemporary play in China…by the end, the audience is left to contemplate the burdens of memory, history, longing, love and the power of theater itself." In 2007, the Centennial of modern Chinese spoken drama, this play was chosen as one of the top ten plays of the century.
Since 1985, PW has created and produced over 30 original new works, many which have become milestones of the modern Chinese-language theatre. Its first production, That Evening, We Performed Crosstalk (1985) was chosen by United Daily News as one of the 50 masterpieces of Taiwan Literature. This play not only revived the dying performing art of Chinese stand-up comedy ("crosstalk"), but electrifiedTaiwan's theatre scene and sold an astonishing 1 million copies as an audio tape, creating a popular base for PW's innovative theatre works. Further plays in this unique genre have found critical and commercial success.
Though PW concentrates on original new works for the Chinese language stage, it also has produced many classics of the contemporary world stage, such as the Chinese world premiere of Angels in America and many works of Dario Fo. PW has also collaborated withTaiwan's National Symphony Orchestra to produce 3 of Mozart's operas.
PW is led by international award-winning Stan Lai, one of the most acclaimed playwright/directors in Asia. Lai is widely regarded as one of the most important voices in contemporary Chinese-language theatre. His epic 8 hour A Dream Like A Dream has recently become one of the most talked-about new plays in Asia. This award-winning play has drawn comparison to the grand works of Peter Brook, Robert Lepage and Tony Kushner, leaving audiences spellbound from opening image to the grand ritual-like finale.
Lai uses a unique method of improvisation-based rehearsals to develop his new works. The stamp of his work is its ability to draw a popular audience while keeping its experimental core.
Lai received his Ph.D. in Dramatic Art from U.C. Berkeley, and has received Taiwan's highest award for the arts, the National Arts Award, an unprecedented two times. He is also known for his award-winning films and innovative television experiments, which have liberally employed theatre actors from his group. Lai has taught at StanfordUniversityas Resident Artist and Visiting Professor, and created the new work Stories for the Dead there, as well as an English version of Secret Love In Peach Blossom Land.
In 1998, PW began producing its plays in China. These historical productions have met with enthusiastic response, with coverage by CNN, BBC and other world media. An excerpt from Lai's Millennium Teahouse was performed at the 2002 CCTV New Year's Special, beamed to 1 billion TV viewers in China. In 2002, PW opened the play Love on a Two-Way Street simultaneously in Taipei and Shanghai with 2 casts, in a novel feat that featured a cross-straits phone link to start the performance. In 2006, PW started touring Secret Love In Peach Blossom Land in China with an all-star cast from Beijing. It has quickly become the most influential production in the Chinese theatre. The recent play The Village (2008) is the most acclaimed Chinese work of the decade, and has been called "the pinnacle of our era of theatre" by the Beijing News.