This is Real (2012)
When you meet the one among the millions, when amid millions of years, across the borderless wastes of time, you happen to catch him or her, neither a step too early nor a step too late, what else is there to do except to ask softly, "So you are here, too?"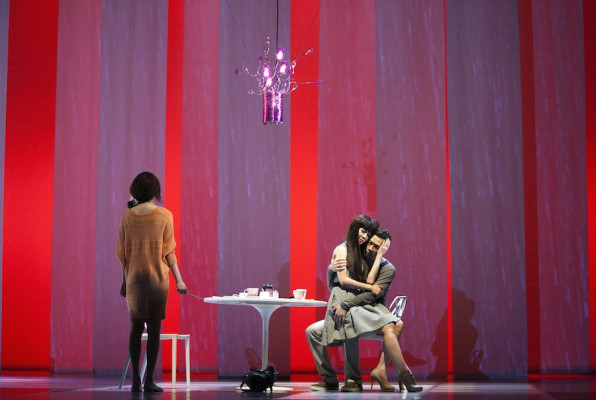 Inspired by a short story written by Eileen Chang – "Love," This is Real beautifully depicts all kinds of whimsical fantasy of universal love. Be it reading out loud a poem or unfolding a story, through the wavering tempo and seemingly apathetic yet possibly compassionate emotions, the combination of literal and body language of actors and dancers evokes a poetically tragic yet comic atmosphere. Based on literature, This is Real is in fact both a poetic prose, and a prose-like poem.
Love has always been the most moving subject matter. Ranging from committed eternal love, to couples in hysterical courtship, and to married one seeking dangerous affair, the play carefully examines the diversity of love and uses a humorous tone in characterizing unconditional love. Though the encounters and interactions between three men and three women seemingly make the play as an episodic fiction, the play inherently illustrates everything about love, forming a metaphoric circle with the theme of love as the very center. Meanwhile, fantasy and realism are coexistent in this play, reflecting the ambiguity in a relationship; indefinite, enigmatic, and illusory. The presence of the airport, feather, love bank and love tutoring all serve as an allegory of distinctive situations of love, and how each scene intersects with one another constructs the very truth of love: when you meet the one among the millions, when amid millions of years, across the borderless wastes of time, you happen to catch him or her, neither a step too early nor a step too late.
In definition, realism is one of theatrical conventions and the aesthetics of dance could be regarded as a form of non-verbal communication; hence, This is Real portrays both realism and non-realism simultaneously on the stage, as dance outlines the poetic element under the realistic framing of modern theater. Consequently, This is Real redefines and transcends the juxtaposition of theater and dance, just like how Just Play It is not simply a musical because of its juxtaposition of theater and music.
The series of juxtaposing experimental works by Ismene Ting is of great importance to Performance Workshop, who is celebrating their 28th anniversary this year, for these plays are representative of the courage, insistence, sincerity and passion of creating theatrical artworks.  If Just Play It is a pristine prose and This is Real is a beautifully melodic prose poem, then Ismene Ting's series of juxtaposing experimental works contributes as a magical experiment lab that produces astounding surprises, always providing a sense of wonder.
Written and Directed by Ismene Ting
Choreography by Chen Wu-kang, Su Wei-chia and Yeh Ming-hua
Visual Co-ordinator by Michael Yuin Hai Ting
Featuring
Shi Yi-xiu
Hsieh Yin-hsuan
Liu Mei-yu
Chen Wu-kang
Su Wei-chia
Yeh Ming-hua
Scenic Design by Austin Wang
Lighting Design by Michael Lizen Chien
Costume Design by Gyokurei Suzuka
Hair Design by Hou Mei-Chun
Mackup Design by Gyokurei Suzuka, Zhuan
Projection Design by Zhou Dong-yen
Graphic Design by Chen Chun-yen
Trapeze Design by Wang Guang-hua
Music Design by Chao Min-Tzu
Sound Effect by Li Zhi-geng
Artistic Director: Stan Lai
Managing Director: Ding Nai-chu
Producer: Hsieh Ming-chang
Technical Director: Szu Chien-hua
Stage Manager: Huang He-jing
Stage Technical Consultant: Wang Han-min
Lighting Technical Consultant: Lin Yi-jie
World Premiere, February 24, 2012
The Metropolitan Hall, Taipei, Taiwan
Past Tour: Kaohsiung, Taichung, Taitung, Beijing, Hangzhou, Shanghai, Ningbo