The Venetian Twins
Performance Workshop's Commedia dell'Arte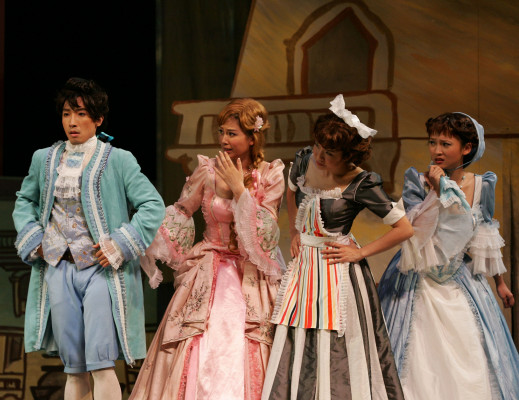 A pair of Venetian twins, Zanetto and Tonino, unknowingly arrive separately in Verona on the same day in search of their respective romantic interests. The twins, identical only in appearance, have greatly differing personalities and intellect and are mistaken for each other in a plot that escalates in complexity with each passing moment. In preparation for their roles, the actors took classes on professional stunts, swordsmanship, acrobatics, somersault and dance.
Original Script by Carlo Goldoni
Translation and adaptation by Zhong Xinzhi
Directed by Zhong Xinzhi
Cast: Jin Shijie, Yin Zhaode, Zhu Hongzhang, Melody Yin Yue, Wei Yi Cheng... etc.
Scenic Design: Su Xiaoqing
Lighting Design: Fang Luyun
Costume Design: Christine Suzuka and Gyokurei Suzuka
Music Design: Gao Da Wei
Executive Producer: Nai-chu Ding
Produced by Hsieh Ming-chang
World Premier: 7/30/2004 National Theater, Taipei
Toured Cities: Chungli, Kaohsiung, Taichung