Strange Tales of Taiwan
Taiwan is a surreal artistic work itself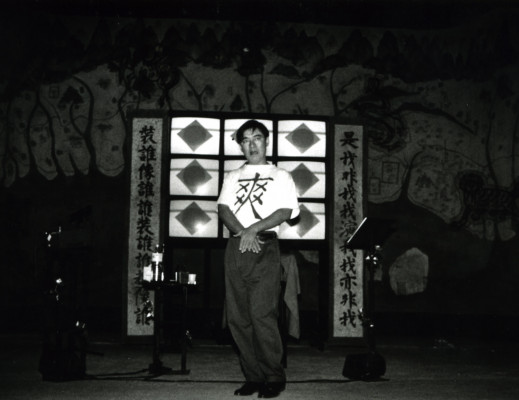 Strange Tales from Taiwan took the Performance Workshop's highly popular "crosstalk" (xiangsheng) genre a large step forward, experimenting with the one-man form of the classical comedy, and adding performance elements of Chinese narrative storytelling, western stand-up comedy, and popular karaoke entertainment. This demanding work was written by Stan Lai and Lee Li-chun through improvisational rehearsals, directed by Lai and performed solo by Lee. The grueling two hour solo performance kept packed audiences enthralled throughout, and the ensuing audio recording of the play also quickly attained "platinum" status.
On stage, a man whose thoughts easily divert is telling a story about a man whose thoughts easily divert. Though he claims the main character in the narrative is not himself, the man's eerie schizophrenic personality begins to take over the narrative, and he even uses a large karaoke TV screen to deliver a two-person "crosstalk" routine with the image of himself. Though interspersed with hilarious humor, his story is a sad one, and the narrative darkens through the course of the story told, about a boy growing up in Taipei who gradually loses recognition of himself. Through the narrative, mystical and industrial, religious and political coexist, and the split personality of modern day Taiwan emerges.
Lee's high-energy performance was accented by Liu Pei-neng's set, with a huge ancient map of Taiwan as backdrop. The large TV monitor at the center of the stage featured collage images by noted cinematographer Christopher Doyle, who also filmed the technically difficult "crosstalk karaoke" sections. The costumes were by noted fashion designer Carson Huang.

Script: Stan Lai and Lee Li-chun
Director: Stan Lai
Cast: Lee Li-chun as Lee Fa and all the personas on the TV screen
Scenic Design: Liu Pei-neng
Lighting Design: Hsieh Ying-lung
Costumes: Carson Huang
Image Design and Production: Christopher Doyle
Producer: Nai-chu Ding
World Premiere: April 25, 1991, Armed Forces Cultural Hall, Taipei
Toured Cities: Taipei, Taichung, Chungli, Kaohsiung, Keelung, Tainan