Crosstalk Travelers (2011)
After travel, is the world bigger or smaller?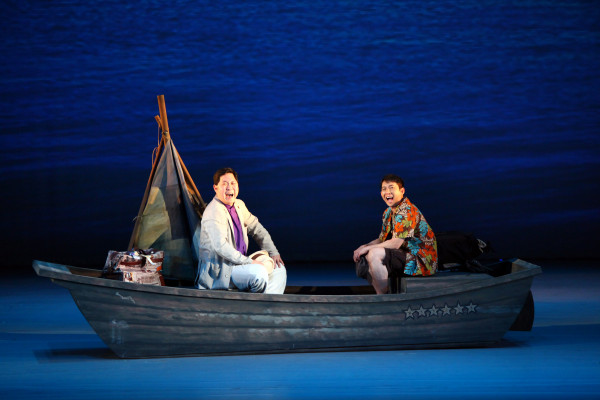 Two travelers are stranded on a South Pacific island due to a local revolution.  Lu Ren (name sounds same as "Traveler") is a 6 star luxury traveler; Chen Ke (name sounds same as "Passenger") is a backpacker. Together they compare travel stories that span the globe and shift in mood, from the ludicrously funny to the hauntingly sober. "After travel, is the world bigger or smaller?" Does travel lead to the yearning for more travel, to explore more of the unknown, or can it lead to a deeper understanding of the principles behind everything, thus leaving one content in one's own armchair?
Feng Yigang and Qu Zhongheng conduct the evening-long dialogue, written and directed by Stan Lai. Mr. Feng is one the most noted crosstalk performers in the world and has his own group, "Xiangsheng Wase" (Comedians Workshop), which performs regularly in Taiwan. He has also performed in 2 previous Crosstalk plays by Mr. Lai. For Mr. Qu, the noted film and television actor, it is his first Crosstalk play, but he has had a span of 4 consecutive plays working with Mr. Lai, including the recent highly acclaimed The Village, which he starred in together with Mr. Feng.
Written and Directed by Stan Lai
World Premiere, March 18, 2011
National Theater, Taipei, Taiwan
Feng Yi-kang, Qu Zhong-heng as the two travelers
and Stephanie Lai or Hsieh Yin-hsuan as the Attendant
 Artistic Consultant: Wang Wei-chung
Scenic Design by Ron Chang
Lighting Design by Michael Lizen Chien
Costume Design by Ray Fang and Bravo Weng
Projection Design by Michael Yuin Hai Ting
Produced by Hsieh Ming-chang
Technical Director: Szu Chien-hua
Stage Manager: Lee Chih-hsiang
Artistic Director: Stan Lai
Managing Director: Nai-chu Ding