A Dream Like A Dream (2013)
"In a story, someone had a dream; in that dream, someone told a story"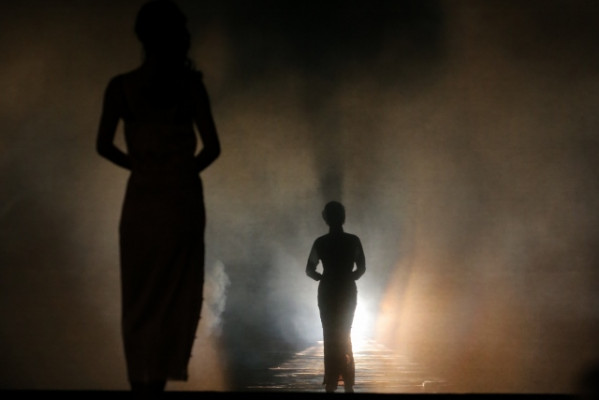 A Theatrical Epic by Stan Lai
A Dream Like A Dream
8 Hours of Legendary Theatre Experience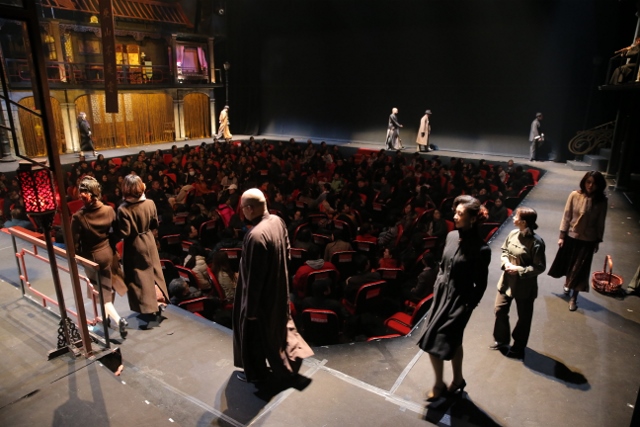 360 Degrees Stage
 A landmark seven and a half hour play by the preeminent playwright-director of Chinese language theatre, Stan Lai, this epic work changes the paradigm of theatre experience, not only in the richness, depth and multilayers of its story, but in the actual experience of the performance itself, which places the audience in the center of the action, with scenes unfolding all around. It is like watching 4 stages surrounding you at the same time.
"In a story, someone had a dream; in that dream, someone told a story." These are the opening lines of this watershed production and a key to the layers of story that unfold in this complex yet highly accessible epic work.
Stories within stories; dreams within dreams. A story about a doctor; a story about a patient who is facing an undiagnoseable illness, and his relationship with both a lonely waitress in Paris and an old woman living secretly in Shanghai, who when young met a French diplomat who married her and took her to France, where she lived in a chateau near a lake, learning to paint...A train wreck, a boat on the seas carrying strange passengers...Recurring patterns of violence and love; a complex web of extraordinary people, past and present, and the extraordinary way in which their lives have been intricately linked together.
Written and Directed by Stan Lai
with creative sponsorship from the University of California, Berkeley,
and Taipei National University of the Arts, 2000
Featuring
Summer Qing as Shianglan Koo C
King Shihchieh as Count
Shi Ke as Koo Hsianglan A
Hugh Hu as Patient #5 B
Chris Lee as Doctor A
Tan Zhuo as Koo Hsianglan B
Hsu Yenling as Jiang Hong A
and 23 other actors, playing over 100 characters
Costume Design by Tim Yip
Scenic Design by Ron Chang
Lighting Design by Michael Lee-Zen Chien
Original Music Composed by Chichi Hung, Hu Shuai and Stan Lai
Produced by Wang Keran and Nai-chu Ding
Executive Producer Vanessa Yeo
Technical Director Szu Jien Hwa
Stage Manager Chen Limei
Produced by Magnificent Culture Co., Beijing, Performance Workshop, Taiwan,
and Esplanade-Theatres on the Bay, Singapore
2013~2014 Asia Tour:
2013/4/1~4/14⊙Poly Theatre, Beijing
2013/5/9~5/11⊙Wuzhen Grand Theatre, Wuzhen
2013/6/10~6/23⊙Shanghai Oriental Arts Center, Shanghai
2013/8/19~9/1⊙National Theater, Taipei
2013/9/28~9/29⊙Poly Theatre, Shenzhen
2014/2/6~2/9 ⊙Esplanade- Theatres on the Bay, Singapore
Total number of runs: 36
Total Audiences: around 30,000 persons
"An astoundingly ambitious, epic, romantic, poetic, extravagant, mysterious, religious, metaphysical and emotionally powerful play that lasts for the shocking length of seven-and-a-half-hours... This writer witnessed the extraordinary emotional impact of this landmark theatre production… [Lai has] created a masterfully done work about life's journey."
-- Taiwan News
"A Dream Like a Dream is a major milestone in Chinese theater, possibly the greatest Chinese-language play since time immemorial… The transcendent wisdom and innovation have combined to create a cultural event, as well as a viewing experience that is at once singularly challenging and endlessly rewarding…
The play is built on a massive and intricate plot structure, but is seamlessly commensurate with its themes and staging. While the clockwise circumambulation is a constant visual motif, the story within another story (within a third story actually) goes backwards, each one more elaborate…
A Dream Like a Dream may be the most cosmic piece of theater in the Chinese-language canon…Such richness is rare except in a work of great scope and depth and crafted by someone who has reached an artistic height that may baffle many an ordinary viewer. Future generations may have a field day dissecting the minutiae of this piece, but some of us can proudly say we were there and we saw how the master worked his miracle…
For theatergoers the work is so dense in texture, so exalted in wisdom, it demands absolute surrender."
-- Raymond Zhou, China Daily, 2013/4/15
"A Dream Like A Dream is not grand just because of its 8 hour performance length, and not because its story leaps through 70 years and 4 places, but because of the heights of its ambition, the depths of its profundity, the fullness of its philosophy and Zen. Never has Chinese drama been so transcendent, yet so close, close enough for the audience to hear the actor's breathing, to count the number of tears on their faces, to feel the wonder of their spiritual transformation…
This is a masterpiece from the mature period of a great artist…When you get to the last act, you will see the unprecedented heights."
-- The Beijing News, 2013/4/2
"Like the famous marathon productions of Peter Brook (The Mahabharata), the Royal Shakespeare Company (Nicholas Nickleby), and Théâtre du Soleil (Les Atrides) that also shattered norms of theatrical length but left audiences eager for more, this magisterial work turned out to be a marvel of sustained inventiveness, oddly exhilarating despite its enormous demands.
A Dream Like a Dream is structured like a series of nested Chinese boxes: stories and dreams within other stories and dreams, continuing in sequence while looping back on one another so that they both stretch out like an endless string and form a meaningful unity. They also (true to Lai's reputation) range wildly in tone from the inanely comic to the sweetly sentimental to the gravely serious, so that the balance of emotions in the end seems as impressive as anything else."
-- Jonathan Kalb, SALON, 2013/6/9