Finding Shangri-La (2008)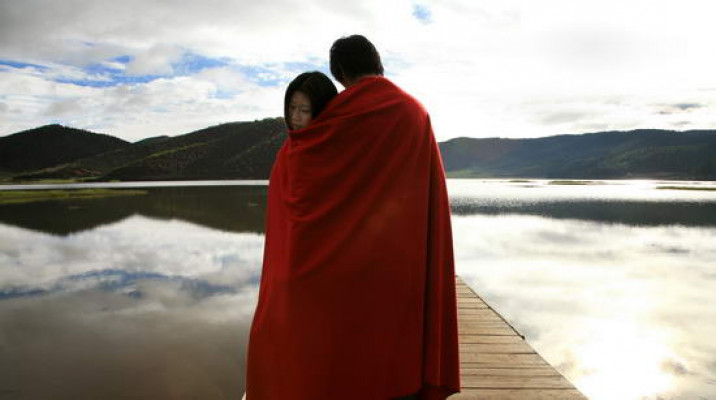 Screenplay by Ismene Ting and Stan Lai
Directed by Ismene Ting
Starring Yin Chao-te, Chung-tien Wu, Chu chi-ying
Jee Ling, a well-to-do Taipei woman, has suffered the loss of her child in a hit-and-run automobile accident. Years later, still grief-stricken and furious that the killer has escaped prosecution through lack of evidence, one day at home she discovers a note that her son wrote while still alive, a clue in the "Treasure-hunt" game they once delighted in playing. The joyful but cryptic message beckons her to seek a majestic mountain.
The son's killer, terminally ill, comes to beg for forgiveness. Under pressure from her husband to give in, Jee Ling breaks down, and in desperation fleesTaipeito a magical mountainous area in southern China. Here begins a journey to regain her soul, and her power to love.
A young man has followed Jee Ling to this region of "Shangri-La," and joins her in search of the mountain in her son's note. Jee Ling becomes strangely attracted to this mysterious young man, who brings forth powerful emotions of passion and anger in her, once she finds his true identity. Alone, she travels to the sacred mountain, Kawarkapo. At the moment she sees its majesty, and realizes it is the same mountain that her son sketched in his note, she slides down a steep cliff and loses consciousness.
Jee Ling awakens in a picturesque village, cut off from the outside world. There she encounters a young Tibetan village boy who begins to open up her heart. The sacred mountain is enigmatic and its message is powerful. The boy triggers a series of startling revelations, through which Jee Ling is awakened to her plight. Her journey has opened the door to an ancient and most mysterious world, through which she finds closure, inner peace, and the strength to forgive.