We Won't Pay! We Won't Pay!
How can a Nobel Prize winning literature possibly be this crazy?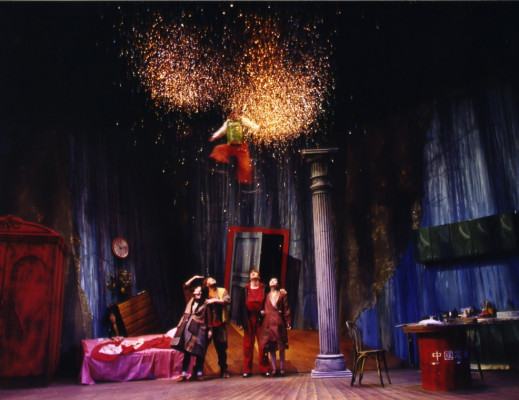 In a crumbling Taipei housing community, a group of housewives led by Mrs. Qiang loot the neighborhood supermarket in an impromptu revolt against the developer. Mrs. Qiang's husband, a factory worker, is a law-abiding man who believes society can progress only if everyone obeys the law. To hide the goods from her husband, Mrs. Qiang stashes part of it under her neighbor's clothes, leading the husband to believe the neighbor is pregnant.  Politics, sex and the surrealistically unpredictable unfold in hilarious yet chilling fashion as the society grinds toward revolt and anarchy.
Script: Dario Fo
Translation: Stan Lai, Ismene Ting
Directed by Ismene Ting
Cast: Tan Aizhen, Liu Liangzuo, Fan Ruijun, Na Weixun, Tang Congsheng
Scenic Design: Stan Lai
Lighting Design: Fang Luyun
Costume Design: Liu Long, Pan Daili
Music Design and  Production: Huang Shujun
Produced by Nai-chu Ding
Toured Cities: Taipei, Kaohsiung, Taichung, Tainan, Chungli, Hsinchu