Red Sky
Twilight trip filled with liveliness, music, and humor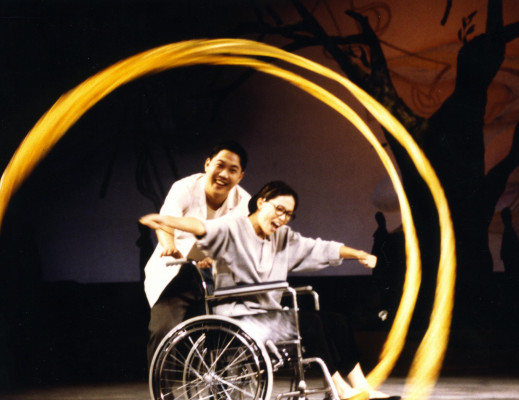 Red Sky is the representative work of Performance Workshop's tenth anniversary. Depictions of the elderly and various situations before their time is up, is shown through the young bodies of actors. Based on the Amsterdam Werkteater's Avenrood (Twilight), the play was constructed more on the principles of poetry or music than that of conventional theater. The action takes place in a home for the aged near Taipei, and the characters weave in and out of the poetic work, each character leaving deep impressions as they embark on the final journey of old age and death. When the production toured the U.S., The Los Angeles Times commented, "[The actors'] skills were obvious, their ensemble work exemplary" with the title of "Taiwanese Troupe Shares Its Global Vision."
Script: Collective creation led by Stan Lai
Creative Process Participated by Chin Shih-chieh, Chen Limei, Ismene Ting, Lin Liqing, Deng Chenghui, Feng Yigang, Tao Chuanzheng, Lee Li-chun, Chen Li-hua
Directed by Stan Lai
Cast: Chin Shih-chieh, Chen Limei, Lee Li-chun, Tao Chuanzheng, Ismene Ting, Feng Yigang, Lin Liqing, Deng Chenghui, Yang Liyin, Chen Li-hua, Lai Fanyun
Scenic and Lighting Design: Samuel Wang
Costume and Makeup Design: Pamela Chin
Produced by Nai-chu Ding
World Premier: 9/7/1994 National Theater, Taipei
Toured Cities: Chungli, Tainan, Taichung, New York, San Francisco, Los Angeles, San Diego, Orange County, Kaohsiung
Produced by National Academy of Chinese Theater Arts, the Beijing production of Red Sky collaborated with actors like Lin Liankun (68), Bao Zhanyuan (73), Han Jingru (60s), Meng Qingliang (70), Tang Jichen (70s), Yan Fanfan, Qin Yan, Li Mei etc. This production toured Taiwan, the U.S., and Hong Kong. The main difference between this production and the Taiwan production is that the roles are portrayed by actors with the very same age of the characters. This theatrical collaboration with China has brought closer cross-straits cultural relations, the Christmas performance in Beijing in 1998 was the very first production directed by Taiwanese director with Chinese actors. After its tour in Beijing, Shanghai, Tianjin and other cities, the production came to Taiwan and participated in Taipei Arts Festival 1999. It has been reported by CNN, BBC, and other world media.
Script: Collective creation led by Stan Lai
Creative Process Participated by Chin Shih-chieh, Chen Limei, Ismene Ting, Lin Liqing, Deng Chenghui, Feng Yigang, Tao Chuanzheng, Lee Li-chun, Chen Li-hua
Directed by Stan Lai
Cast: Lin Liankun, Tang Jichen, Bao Zhanyuan, Meng Qingliang, Yan Fanfan, Qin Yan, Zhang Zhitong, Han Jingru, Li Mei, Lai Fanyun, Feng Yigang, Jin Shijie, Tao Chuanzheng
Scenic and Costume Design: Mao Jingang
Taipei Arts Festival Performance
Scenic and Lighting Design: Liu Pei-neng
Lighting Design: Samuel Wang
Costume and Makeup Design: Mao Jingang
Produced by Nai-chu Ding
Toured Cities: Beijing, Haidian, Shanghai, Tianjin, Taipei