Like Shadows (2007)
Between Imagination and Fact, Dreams and Reality, Life and Death, What's Real and What's Truer Than True?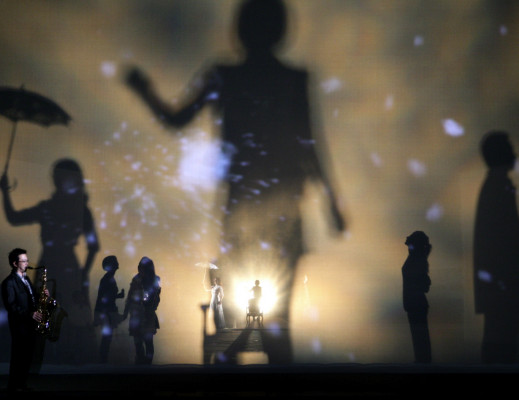 Gaining inspirations from the workshop he held at Shanghai and Stanford University, Stan Lai wondered: between imagination and fact, dreams and reality, life and death, what's real and what's truer than true? One by one, mysterious shadows appear and disappear on the stage.  A virtuoso on multiple story-lines in one play, Stan Lai succeeds in interweaving a multidimensional environment. The story begins with six people from two families. Layers of characters and stories gradually unfold and the truth is eventually revealed.
Daqiao, a seafood merchant, finds that no one responds to him when he talks. The only person he can talk to is Zhengzheng, his daughter, but he doesn't recognize her. These seemingly surreal threads weave together delicately to expose a series of explosive truths that lead us to question the fabric of reality. This production was created through an invitation from Stanford University and is based on Stories for the Dead. Participants include Stanford University and staff from Performance Workshop. Special thanks to Institute for Diversity in the Arts, Stanford University.
Cast: Pan Hengjian, Tseng Baoyi, Ismene Ting, Yin Zhaode, Qu Zhongheng, Xu Yanling, Lai Fanyun, Zhu Zhiying, Li Jianchang, Shi Yixiu
Scenic and Multimedia Design: Hu Enwei
Lighting Design: Michael Lizen Chien
Costume and Makeup Design: Ding Naisheng
Video by John Wong
Photography of the Shadows: Stan Lai
Original/Improv Score: Pan Hengjian
"Song of Mengru" - Composed by Pan Hengjian, Lyrics by Stan Lai and the Cast, Sung by Tseng Baoyi
Artistic Director: Stan Lai
Co-produced by Nai-chu Ding
Produced by Hsieh Ming-chang
World Premier: 2007/12/21 National Theater, Taipei
New Year's Eve Special Performance: 2007/12/31 National Theater, Taipei
Toured Cities: Taichung, Kaohsiung, Singapore, Shanghai, Beijing, Suzhou