Come Dance With Me
It's Gone This Far Anyway...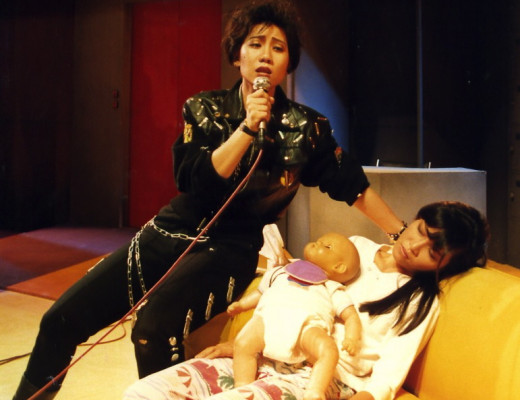 An audacious dark comedy. A both surreal and realistic satire of the distance between people in contemporary society. The action takes place in random sequence in random apartments and hallways within an apartment building.  A mentally disabled woman rings the doorbells of her neighbors and their stories are told through these meetings.
This play was performed in Taitung and Penghu in corporation with Festival of Culture and Arts.
Script by Ismene Ting, Stan Lai, Huang Jianye
Inspired by Franka Rame's work
Directed by Huang Jianye
Cast: Ismene Ting, Jin Shihui, Deng Chenghui, Lang Zuyun, Deng Anning
Scenic and Lighting Design: Alan Kuang-yen Nieh
Costume and Makeup Design: Gyokurei Suzuka
Music and Sound Design: Tony Taylor, Huang Dawei
Composer: Tony Taylor
Lyricist: Stan Lai, Ismene Ting
Artistic Director: Stan Lai
Produced by Nai-chu Ding
World Premier: 10/3/1990 Taipei Fine Arts Museum
Toured Cities: Taichung, Changhua, Tainan, Kaohsiung, Pingtung, Nantou, Miaoli, Chungli, Keelung, Taitung, Penghu