A Post Martial-Law Couple (1988)
An explosive comedy in a gradually open era...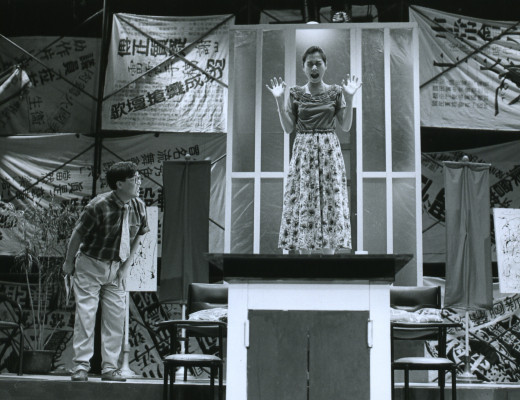 Performance Workshop's only work of 1988, A Post Martial Law Couple was a high-energy political satire staged at a time when the democratization movement in Taiwan was at its height. The play was written and directed by Chen Ming-tsai, a new graduate of Taiwan's National Institute of the Arts, drawing inspiration from Dario Fo and Franca Rame's The Open Couple. The work is a biting satire that deals with the state of marriage, sex, and politics in post-martial law Taiwan.
A director is directing a play about a couple's open marriage and the wife's new found political ideology and feminist aspirations. Actually the director himself is involved in a romantic struggle with the actress playing the wife. The rehearsal is disrupted by political demonstration music playing from the back of the auditorium. An unwelcome guest, a Taiwanese dialect radio personality whose program has been banned by the government, walks through the auditorium, passing out leaflets, and with his loudspeaker takes over the stage. The ensuing struggle is political and sexual.
The play satirized the new morals and political ideology of nouveau riche Taipei residents, and incorporated performance elements of contemporary street demonstrations and Taiwanese-dialect storytelling into its multilayered structure. The production created a media stir for its boldness, critical acclaim for its timely sociopolitical commentary and innovative staging, and a frenzied rush at the box-office for tickets.

Script: Chen Ming-tsai
Director: Chen Ming-tsai
Cast: Lee Li-chun as the Husband
Hsiao Ai as the Wife
Yeh Tai-chu as the Director
Chen Mu-yi as the Disgruntled Radio Storyteller
Stage Manager's Voice: Stan Lai
Scenic and Lighting Design: Samuel Wang
Costumes: Wu Ya-lun
Original Music: Deng An-ning and Stan Lai
Producer: Nai-chu Ding
World Premiere: October 1, 1988, National Arts Hall, Taipei
Toured Cities: Taichung, Changhua, Tainan, Kaohsiung, Keelung, Taoyuan