Every Night Crosstalk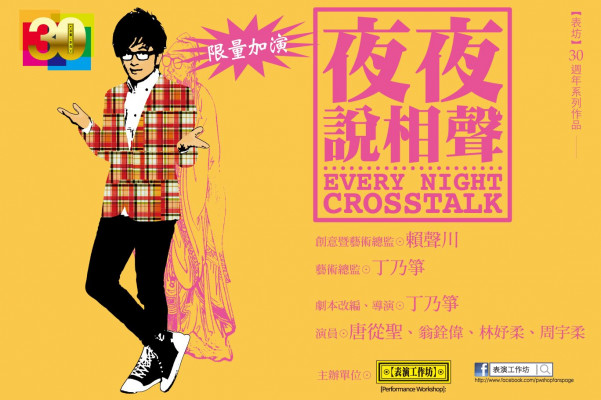 Performance Workshop's 30th Anniversary Production Series
Every Night Crosstalk
 About the Show
"Xiangsheng" or "Crosstalk" as it is translated into English, is the traditional Chinese stand-up comedy. It blossomed in the Qing Dynasty, performed in teahouses and on the street. Its character is marked by its unique ability to incorporate social and political critique into its format of jokes, storytelling and opera singing. This art form died in Taiwan but was revived through the work of Stan Lai and Performance Workshop, who have remolded it into a vibrant performing art form as the main tool of expression through a series of highly acclaimed original plays.
Every Night Crosstalk is a collection of five of the best segments from previous Xiangsheng productions and plays that incorporated Xiangsheng style, including  The Complete History of Chinese Thought, Mumble Jumble, Total Women, and Millennium Teahouse.  They are vibrant, colorful, irreverent and funny pieces that reflect the commotion and energy of Taiwan society today.
●Part I- Confucius and His "73" Disciples
This is a wild exploration of Chinese philosophy, mainly on the greatest philosopher and teacher in the Chinese history, Confucius, and his 73rd disciple, unrecorded by history.
●Part II- Love Sickness
Is love a sickness? Back on stage, two men discuss the nature of love.
●Part III- Sweet, Sour, Bitter, Hot
Through these four tastes of food, an irate narrative is blurted out about societal problems in Taiwan.
●Part IV- Chicken Feather Party
A campaigning political hopeful for an upcoming election gives a speech expressing his ideas for the future of the country. His new party – Chicken Feather Party – is desperate to gain more followers.
Production Team
Written by Stan Lai, in collaboration with cast members from Performance Workshop's "Crosstalk" series
Directed by Ismene Ting(丁乃箏)
Performed by Tsong Shen Tong(唐從聖), Chuan Wei Wong(翁銓偉), Asami Lin(林妤柔), Dora Zhou(周宇柔)
Managing Director: Nai-Chu Ding(丁乃竺)
Produced by George Lan(藍大鵬)
Scenic Design by Ron Chang(張哲龍)
Lighting Design by Michael Lee-zen Chien(簡立人)
Costume Design by Klintonn
Sound & Music Design by Yu-jou Lin(林妤柔)
Hair/Make-up by Mei-chun Ho(侯美春)
Graphic Design by Ayen Chen(陳俊言)
Still Photography by Arthur Chang(張洛君)
Stage Manager: Chien-Hsiung Cheng(程健雄)
Stage Consultant: Han-Ming Wang(王漢民)
Lighting Consultant: Ting-Chong Chang
2016 Schedule
Taichung/ Chung Shan Hall
2016/4/30(Sat.), at 19:30
All performances  welcome audiences aged 7 or above.
Ticket Price:
(NT$): 500, 880, 1280, 1580
Discounts (offers cannot be combined;

no discounts for lowest ticket price

):
 ◆Performance Workshop members enjoy 15% off
◆Credit card holders of Shin Kong Commercial Bank enjoy 15% off
◆Purchases made through Performance Workshop's Online Store received 10% off! Please download the Performance Workshop APP on your iPhone or Android phone, or go to http://pwshop.incdoor.com/indexplates/EC/    (Enter offer code: 61290)
◆Eslite members & Farglory members enjoy 10% off
◆Members of Chunghwa Benefit One enjoy 8% off
◆Credit card holders of the following banks get 5% off: ChinatrustCommercial Bank, Cathay United United, Citibank Taiwan, E.Sun Bank
◆Special offers are available for groups of 30 tickets or above. Please contact +886-2-26982323 for more information.
Important Notices:
◆Ticket exchanges and refunds are only accepted 10 days prior to the day of performance, with a 10% service charge.
◆Please refer to the back of the ticket for other regulations.
Ticket Inquiries:
Performance Workshop 02-2698-2323 Press 0 for operator
Artsticket.com 02-3393-9888